The modern record-keeping and measuring is known for the last 137 years. That is the time perio for which  we have the weather and climate data collected. This year's August was the second warmest August in the last 137 years of modern record-keeping, according to a monthly analysis of global temperatures by scientists at NASA's Goddard Institute for Space Studies (GISS) from New York.
This result was not accidental  since we can see that the measured value is consistent with the trend in global average Earth's surface temperatures. This trend  has been observed during the past few decades. In average, this year's August was approx. +0.85 degrees Celsius warmer than the mean August temperature between 1951. and 1980 which is also an indicator of global warming and climate changes.
So, which August was the warmest so far? Of course, it was the August of 2016 which was even warmer than the one of 2017. It was because August 2016 was still affected by the El Niño and was 0.99 degrees Celsius warmer than normal. However, August 2017 was approximately 0,2 degrees warmer than the August following the last large El Niño event in 1997-1998. This research has been made by NASA's team and has been made by acquiring data from more than 6.300 different meteorological stations from all over the world, as well as on the surface of the seas and oceans. Apart from measuring air temperature, sea surface and Earth's surface temperatures were also measured in order to give us the summary. Even the Antarctic researching stations were included in this data gathering.
The measuring we know today has started somewhere around 1880. There is some data from the dates before the mentioned year but are not competent  since the measuring didn't cover enough of the planet.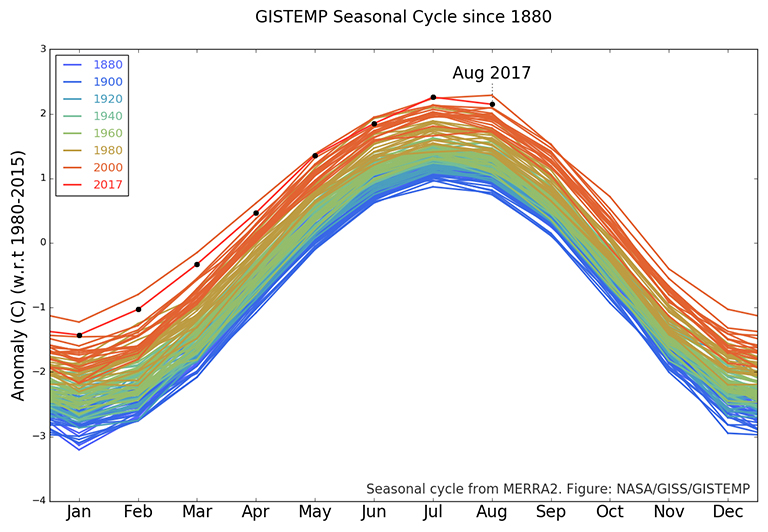 It was not only the August which was above average. In the last few years we record some groundbreaking data from our meteorological stations all over the world. The predictions of the scientists and researchers is that many more months to come will come with the + sign. That meaning that the following years are likely to be even warmer that this one was, which is nothing to be surprised with. This trend will continue to rise for many years to come, if we're to trust NASA.